Survival of the Fittest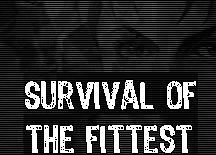 Survival of the Fittest is a Battle Royale based roleplaying site. The premise of the game is simple: you are a student who, along with the rest of your class, has been thrown onto an island, fitted with an explosive collar, issued a weapon, and given the ultimate ultimatum: kill or be killed. Survival of the Fittest, more commonly known as "SOTF", differs from its inspiration in that unlike most BR-oriented roleplays, SOTF has its own unique storyline, unique characters, and a whole plethora of unexpected happenings. Interested yet? You should be. Battle Royale never got this extreme.
In January 2018, Version 6 concluded. After eleven days of fighting to survive, Boy #1 Min-jae Parker outlasted Girl #10 Fiyori Senay, Boy #8 Nate Turner, and Girl #31 Candice Banks to become the winner of Cochise High School's ordeal. The V6 epilogue is in-progress; stay tuned for updates!
Version 7 launched in June 2019! Visit the board to check it out and join in, or use the handy links below to learn more about past games.
The Websites

Retired Sites
General Information
Version VII: 2018
Version VI: 2015
Version V: 2012
Version IV: 2008
Version III: 2007
Version II: 2006
Version I: 2005
Version 0
Latest activity
Community content is available under
CC-BY-SA
unless otherwise noted.